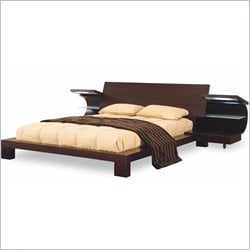 When it comes to contemporary design in bedroom furniture, the style has a minimal, neutral look and features a mix of modern and traditional influences. If you've been searching for a relaxing getaway in your bedroom, a contemporary-designed sleeping space can offer you the peace and quiet you deserve.
The contemporary design has become increasingly popular in modern times, mainly due to its simplicity. With plenty of condos and apartments being constructed, the contemporary look is mainly followed because it's simple to do and can appeal to a wide audience. Rooms, such as the bedroom, have a light, airy feel with lots of natural light.
Colours in a contemporary bedroom can vary. Generally, the contemporary design focuses on simple, earthy tones, like various beiges or soft browns. Bright shades like canary yellow or candy apple red aren't necessarily found in contemporary bedrooms – they don't promote relaxation.
The shape of contemporary bedroom furniture is normally curved or free form. It combines the streamlined look of modern furniture with the rounded, detailed traditional style. The most common furniture material is wood in a lighter finish, but dark finishes can be used as well. The wooden furniture is usually complimented with brushed nickel or chrome hardware.
Polished wooden floors are popular in contemporary bedrooms, instead of traditional carpet. To add some comfort to the floor, area rugs in a muted colour and/or pattern with a slightly curved shape is suited to the contemporary style. The wooden floors are usually in a lighter shade to promote a fresh and open feel.
Contemporary bedroom décor can either be used to subtly enhance your room, or become a focal point. It all depends on what pieces you go with. Bedside lamps with metal accents or an oval mirror over your dresser can be an understated addition, or you can step it up a notch and feature a hanging arc lamp directed over your bed. You can also invest in a chrome chandelier or an oversized wall mirror to add a little drama to your contemporary bedroom.
Get started on creating a contemporary bedroom for your home – whether you live in an apartment or not!
Comments
1 comment

October 17, 2009
Leave a reply